Barnwood vanities, Rustic Log Bathroom Vanities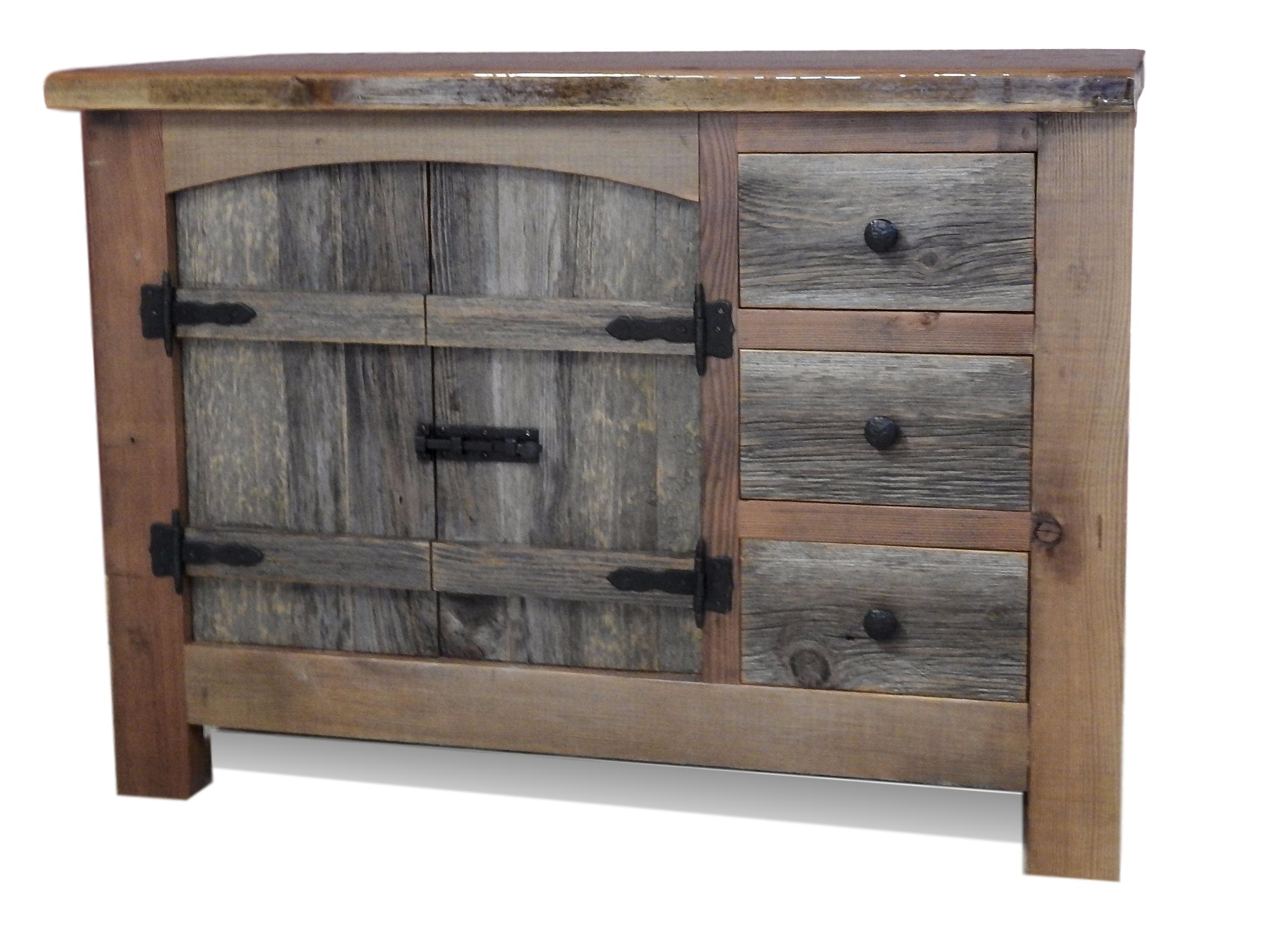 We can make rustic bathroom vanities in a variety of wood types and styles. We use reclaimed barn wood, reclaimed fence wood, rustic hickory, rustic cedar, willow, butter nut, walnut, cherry or what ever specie of wood you prefer.

CLICK HERE TO SEE OUR COMPLETE VANITY COLLECTION OR scroll down the page to see our rustic medicine cabinets, linen closets, mirrors, towel racks, sinks and rustic toilet cabinets.

HOW WE BUILD OUR RECLAIMED WOOD VANITIES
More detailed information about our reclaimed wood barnwood vanities and how they are made.

IMPORTANT INFORMATION ABOUT OUR BARNWOOD FURNITURE
Find out more about our barn wood and how we construct our furniture.

Please fill out this form to get a quote on any of our rustic vanity styles RUSTIC VANITY FORM
We HIGHLY recommend looking over this form to find out more about how we construct our bathroom vanities!

PLEASE NOTE: IF YOU ARE UNSURE OF HOW TO MEASURE THE CORRECT SIZES FOR YOUR BATHROOM, PLEASE CONSULT A PROFESSIONAL. WE WILL BUILD BASED ON THE MEASUREMENTS THAT YOU PROVIDE AND WE ARE NOT RESPONSIBLE FOR MISCALCULATIONS OR ERRORS ON THE PART OF THE CUSTOMER.

We will do our best to help you with your vanity but we can only base our specifications on the information that you give us, so please do ask us detailed questions about your specific project so that we are able to provide you with the correct size.

If you have a specific rustic vanity design in mind, please let us know and we can build exactly what you need. Matching Rustic Vanity Mirrors are also available.
If you have a photo of a rustic vanity that you want us to replicate, please be sure to send it to us via email. In order to provide you with an accurate quote, we need to have all specifications and photos prior to the quote. Please contact us with your ideas and plans! Also it is your responsibility to ask us questions regarding how our vanities are constructed. We use industry standards, including birch plywood (not particle board) drawer boxes (dovetail construction and/or solid wood is optional for an upcharge.) Thank you!
NOTE Standard Vanities are made without a back and without drawer partitions inside (panel that goes between the cabinet part and the drawers) - These are available for an upcharge. Most vanities in our part of the country are not made with these options however, we can provide this add on if you inform us! We try to provide you with as much information as possible however please do ask us questions and clarify your expectations.

Our Barnwood Vanity tops are authentic barn wood ( See our barnwood information page here) The tops are run through a planer which removes most of the saw marks, and patina, but we assure you, this is still authentic barnwood and not new dimensional lumber. Usually you can tell if you look at the sides of the top, which will in most cases still have sawmarks and nail holes showing. Some of our barn wood has very few nail holes because of the size of the beams that we use. They are huge, and simply had no nails put into them in certain sections! The top must be smooth in order to function and accomodate the sink and faucet. If you would like a sample of barnwood with one section planed and another left untouched so that you can see what the planing looks like, please let us know. We would never use new lumber, with the amount of barnwood we have on hand!

CLICK ON THE PICTURES BELOW TO VIEW OUR MANY RUSTIC BATHROOM PRODUCTS
VIEW OUR RUSTIC SINK OPTIONS HERE!